I'm still in Asia where "watching" Purdue @ Wisconsin means refreshing the gamecast regularly. Oh and the game starts at 9am local time. Here's a little taste of my experience.
9:10am - I log on and lo and behold we're in the lead. Carl Landry with a deuce. He's the man. My internet seems to be working, so all systems are go.
9:14am - After a painfully long refresh I see that the boilers take a 5-2 lead with a Keaton Grant 3-pointer. I'm not sure I remember who he is. My brain immediately makes the following connection: Alex P. Keaton, Michael J. Fox, Teen Wolf. Can anybody tell me if Keaton is abnormally hairy? Oh I also just noticed that Gordon Watt committed a foul on a 3-point shot. Way to go homie.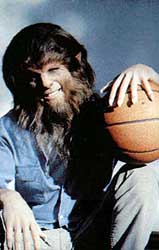 9:19am - There are three different scores on different parts of my gamecast. 5-2, 5-4 and 7-4. I'm fairly sure these are slipping in from parallel dimensions. Shockingly, Purdue is winning in all three.
9:21am - Eight minutes into the game and we've got a grand total of 15 points scored. Why do 90% of college basketball games seem to start of at a snail's pace? I know they've warmed up, I know they had a shoot-around. Wouldn't it be a
huge
advantage if some coach could figure out a way for his team to come out sharp in the first ten minutes of a game? Just asking.
9:25am - Whoops, a quick five points and Purdue's lead evaporates. I'm just glad they didn't blow it in the first 10 minutes, really. 'Sconsin made a three and a layup. Apparently the three point defense by the Boilermakers is awful. I disagree. The gamecast does not say it, so it must not be true.
9:30am - First of all, Wisconsin has a player named Landry. Fuckers. That's our guy's name. Quit trying to confuse us. Second, they have a player named Flowers. I can't think of anything funny to say here that's not entirely mean spirited. So just make up your own "flowers" joke.
9:33am - David Teague has 0 points and 2 personal fouls. Nice first half, guy. In his last three games he's scored 20, 11, and 21 respectively. Wake up my man.
9:37am - Boilers trail by five and Carl Landry just picked up his second foul. I'm thinking our chance to win this game might have just left town. Landry has 10 and only two other players have scored (Watt only has one made free throw).
9:42am - I'm not sure what's going on here but it seems like every time Purdue scores, it's sandwiched on the play-by-play by two Wisconsin scores. Something tells me this is a flawed strategy, coach Painter.
9:46am - The question here with under 3 minutes left in the half: do you put Carl Landry in the game? I say yes. You have to take risks to hang with the #3 team in the nation on the road. The actual answer: I have no clue because the ESPN gamecast has no interest in telling me who is currently in the game. Go get em, somebody!
9:50am - David Teague just scored his first two points. Welcome to Madison, Dave. Tip off to final buzzer, right?
9:54am - Purdue is trying to end the half with a flurry! Two Teague free-throws followed by a Watt three and somehow they only trail by one point to a really good Wisconsin team at halftime. Oh wait, 12 seconds left. Let's not do something stupid now.
9:58am - Gamecast has been stuck at 0:05 for three minutes now. I'm just assuming that Purdue got a steal and a fast break basket to take the lead at half and it's taking a while to type up. Yeah....
10:00am - Halftime. Not sure what to make of this. Gamecast says the score is both 31-30 and 29-30. Fantastic. Seriously, just pick a goddamned score. How about the one on the scoreboard in the arena?
Either way, this was (by all evidence available to me) a really well played half by the Boilers. I like the reasonably low score. Wisconsin has put up 80 to 90 points a half dozen times already this year, so it seems that you don't want to try to run with them. Now this seems like the stereotypical gotcha second half where the better team comes out, wears down their opponent and really plays to their potential, but I'm not sure about the wearing down. Wisconsin only plays seven men. Purdue played nine in the first half. Maybe we can have the fresher legs at the end of the game. Stay tuned...
10:15am - And we're back! Purdue come out smoking with a quick couple buckets by Watt and another by Landry. For the record, I still don't know what the score is. It's either tied, or Purdue by two.
10:19am - I just noticed that Teague picked up his third foul somewhere along the way. Sigh... On the other hand, Gordon Watt has 12 points. I'm convinced that he can be a really solid player. Maybe this will be the game where he decides to agree with me.
10:23am - I have no stats to back this up, but Purdue really seems to be hitting the boards. Nice to see them stay aggressive. Plus, in case your keeping track, our Landry: 12 pts, 2 pf, their Landry: 4 pts, 3 pf. We're definitely sitting pretty in the battle of Landry supremacy.
10:27am - During this timeout I'd just like to remind you that Darmetrius Kilgore is the official Subway Sub of the Game.
10:28am - Ugh. Carl Landry just picked up his third foul with 12:44 left in the game. Not good. Oh, look Teague has four now. When did that happen? That sneaky little bitch.
10:31am - The Badgers take a four (or is it six?) point lead. Stupid badgers. Wait a second, weren't they really good at football this year too? Between Florida, OSU and these guys I'm really fucking tired of well-run athletic programs. Let's all just hire an AD who is more interested in the cocktail parties than the victories and move on.
10:35am - Hey now, I just noticed on the scoreboard that Notre Dame lost to 'Nova 102-87. Let me just say: HAHAHAHAHA. How do you give up 102 points in 40 minutes of basketball? Talk about an overrated team. Somewhere, Digger Phelps is crying. Hopefully on national television.
10: 41am - Well, C-Land (get it? Sea/Land. Pure
genius
.) is doing everything he can to keep this one close, but I fear it may not be enough. Lutz just snagged his fourth foul. According to the gamecast, the refs are really cheating us.
10:46am - Uh oh. It's starting to get out of reach. A nine point game with six minutes left isn't impossible, but a nine point game with two minutes left is real trouble. It's going to be time for a run here anytime.
10:52am - Watt has 18 now to lead the way. It's probably going to be in a losing effort, so I'm not sure what to think about it. The big missing piece in this game has to be Teague so far. Just a total non-factor.
11:04am - Wow, we're not giving up. Five point game with 35 seconds to go. I'm still watching...
11:10am - Okay, now it's over, 69-64. What did we learn? Purdue can hang with a good team, even on the road, but still couldn't snag a road victory. Watt can put up some points. Teague is yet again a total enigma. Oh, and maybe Wisconsin is overrated.