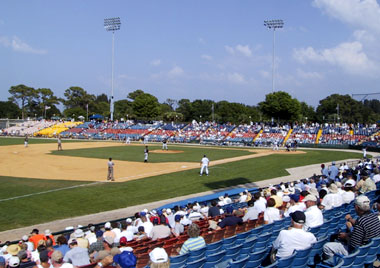 Word on the street is that the Dodgers and White Sox may soon
share a spring training facility in Glendale, Arizona
. Why the White Sox have decided they have to move again, less than a decade after they left Florida, is beyond me. Well, actually it's not. It's probably about the money. It's always about the money.
But I'd like to think that since the White Sox will be divorcing the Diamondbacks, their park-mate of nigh 10 years, there's some beef going on there. Did Juan Uribe accidentally forget and leave his firearms in the complex one day, prompting and ultimatum from D-Backs management? Did Brandon Webb think it was funny to constantly leave a skid-marked jockstrap lying around? Perhaps the Sox were just turned off by the
new Diamondbacks logo
. Or maybe Luis Gonzalez' Preparation H smelled up the clubhouse. These are the things Peter Gammons and Buster Olney need to spend their Marches researching. OK, enough of my weak stabs at humor.
This is significant for another reason: history. Nah, not that it could spell the end for the Dodgers in lovely Holman Stadium (picture above in all its glory), where they've been almost 60 years. Who cares about the Dodgers? Not I (although it is pretty cool to imagine Jackie Robinson training there). Things change, people. Get over it. Yankee Stadium will soon be no more, going the same way as just about every old stadium except Fenway and shit-tastic Wrigley.
It's significant for my own personal history. Holman Stadium is where Gage and I spent a hot-and-humid-as-balls spring 2003 day eyeing Tommy Lasorda getting approached by dipshit fans all game, watching Ozzie Guillen shoot the shit with fans and players as Marlins third base coach, listening to some Hispanic Miami resident complain about all the immigrants in his city, and watching some country-strong white boy perennial bench player (the name escapes both me and Gage) launch ridiculous homers all batting practice. In fact, I think you can see our seats (free, from the super-nice box office lady! Thanks, lady!) along the 3rd base line in that picture. Sad. I guess I'll just have to mark my calendar for 2008 and make some new memories at a shiny, new character-less stadium in Glendale. Fucking Arizona.