Well, I couldn't quite bring myself to write a real Cubs season preview. Primarily, because I actually think they'll win the division and that makes me a little sick to my stomach. Instead, here's an old post that I finally finished, a running diary of watching HBO's Cubs movie. Strap in, it's a beast.
Recently, HBO aired an hour long "documentary" about the Chicago Cubs entitled "Wait For Next Year." Apparently someone thought it would be a good idea to document the drunken naivete of an entire fan base. For the sake of the blog I sat my ass down and watched this piece of cinematic history and even took some notes. My thoughts: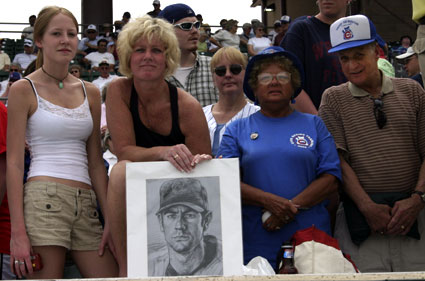 0:01 We start with an image of opening day, any Cubs fan's favorite day of the year. It's really hard to let your favorite team break your heart before they've even played a game. Unless you root for the Royals, that is. Next we're greeted by a crowd of Cubs fans who have somehow managed to be drunk out of their gourds by 10am. Surprise! Cubs fans are alcoholics! Who knew? We also meet our token 85 year old man who represents the four generations of fans who haven't seen an championship. Didn't see that one coming. By the way, our narrator for the evening, Dennis Franz. He will fuck you up, then show you his ass.
0:05 Quick recap of the early Cubs days, Bill Veeck, the ivy and the four World Series the franchise lost in the 20s and the 30s. Frankly, this whole history is a lot more information than I would have ever wanted to know. My favorite tidbit, however: Hack Wilson hit 56 HR in 1930. Jesus, that's a lot of homers for a guy who came to work hungover five days a week. My research also shows that there were no steroids available in 1930. Just booze, loose women and mescaline (unconfirmed).
0:10 Back to opening day. Jeff Garlin (who despite being a Cubs fan tempers my scorn by being great on
CYE
) is headed to the game looking ready to eat his body weight in chi-dogs. Don't put ketchup on those or they will castrate you, just a heads-up. Garlin gives us a quick summary of the story behind the curse of the
goat
. He loses points just for knowing the whole story. Then we're on to Jack "The Original Drunkard Announcer" Brickhouse whose "hey hey!" home run call might just be even less creative than Chris Berman's "back back back, gone!"
0:12 Just learned that P.K. Wrigley decided to go with a rotating 8-man coaching staff of managers in 1961. I'd like to see someone run this idea past Lou Pinella. As it turns out, that same year they brought in a former Army colonel with no baseball experience to be the "Athletic Director." Banner year for incompetent management.
0:15 The brilliant moves continue in June of 1964, as the Cubs trade away
Lou Brock
for
Ernie Broglio
. What ever happened to that Brock Guy anyway? Broglio had ERAs over 6.00 in both 1965 and 1966, and then retired. Totally worth it.
0:18 And we're back to modern day. We're lucky enough to meet a delusional cardiologist who's ponied up a few thousand dollars to go pretend to relive some glory days that he never had. Well, at least it's warm in Florida. Now, we're back to talking about opening day. I'm picking up on a theme.
0:22 Strangely, things are looking up. It turns out the '69 team had an 8 game lead over the Cardinals and everything was rosy. The bleacher bums were drunker than ever, people were inexplicably wearing hardhats and some dude insisted on playing a bugle. Not sure what that's about.
0:25 Annnnd… heartbreak. The Cubs blow big series with the Mets (3rd place in the NL) and get absolutely shut down by Tom Seaver in the process. Plus, this series gave the psychotic fanbase one more thing to obsess over as a black cat gets released onto the field at Shea Stadium. Oooga booga! We get interviews of fans still discussing this cat. Seriously? Meanwhile, the Cubs predictably blow said lead and miss the playoffs. Fans are too busy discussing the fate of a stupid cat to notice.
0:28 Quotes including "I hate the Mets", "They will never be forgiven" and "sour grapes" are thrown around by our interviewees. Is this where I'm supposed to remind everyone "it's only a game"?
0:32 Right on time: the predictable lovefest for Harry Caray. I guess I get that he became synonymous with the team and all that. But really, do we need to canonize an old drunk who couldn't even stay sober on the job? There's even a statue. If he weren't the Cubs announcer I'm fairly sure he fit right in as town drunk of Anytown, USA.
0:39 Note to self: Bryant Gumbel is killing me with his melodramatic bullshit. Sweet jesus. If he cries on camera, I'm out. He brings up how the Cubs went up two games to none in the 1984 NLCS against the Padres. They lose game three, blow game four thanks to a 9th inning walk-off dinger by Steve Garvey and choke away a lead in game five flushing away all World Series hopes. For the record: some Cubs fans still hate the Padres. I know I always get geeked up for that fierce Chicago/San Diego rivalry.
0:43 It's time for some group fellatio as we gather at the feet of Ron Santo. Come on, there's room for everybody! I don't have much to say about Santo. It's usually confined to jokes about the handicapped, and those hardly seem appropriate in this forum (that's right, oral sex = acceptable, handicapped = won't go there). Anyway, it is cool (despite questionable inspiration) that this Bill Holden guy walked across the country to raise money for diabetes.
0:47 Uh oh, we've come to the time in the program to discuss the 2003 playoffs, possibly the single period of time that most cemented my Cubs scorn. We meet a film maker who cashed in his entire savings to make a documentary about the 2003 season. We also get our first Sammy Sosa sighting. No footage of him taking anabolic steroids. Apparently, the bitterness has not worn off for any of our commenters. There is shit talking about the Marlins in general and Jack McKeon specifically. Nice, guys. Go after an old man.
There's a lot to talk about this series from the very presence of Paul Bako to the whole Bartman thing and Moises Alou's complete meltdown. Call me crazy, but blowing up like a madman while you're still winning the game doesn't seem like the best strategy.
0:55 Finally, the real reason the Marlins won: Alex Gonzalez (the shitty one) boots a ball at shortstop and Derrek Lee doubles in a run (small hint of irony there) and the Cubs lose. Of course, this was only game six, but in game seven Kerry Wood completely imploded (sound familiar?) and the Marlins cruise. Next, we learn that the kid making the movie's entire deal was contingent upon the Cubs making the World Series. Wow, talk about a punch in the gut. I almost feel bad.
0:58 In our closing montage we learn that people "still have faith" and are just "happy to be alive." Not sure how this relates to any talk of curses and harbored feelings of scorn for particular teams and players, but whatever. Credits roll. Special thanks to Dennis Franz for leading me on this journey. And, cut. Cubs fans, you can return to drinking yourself into a coma.